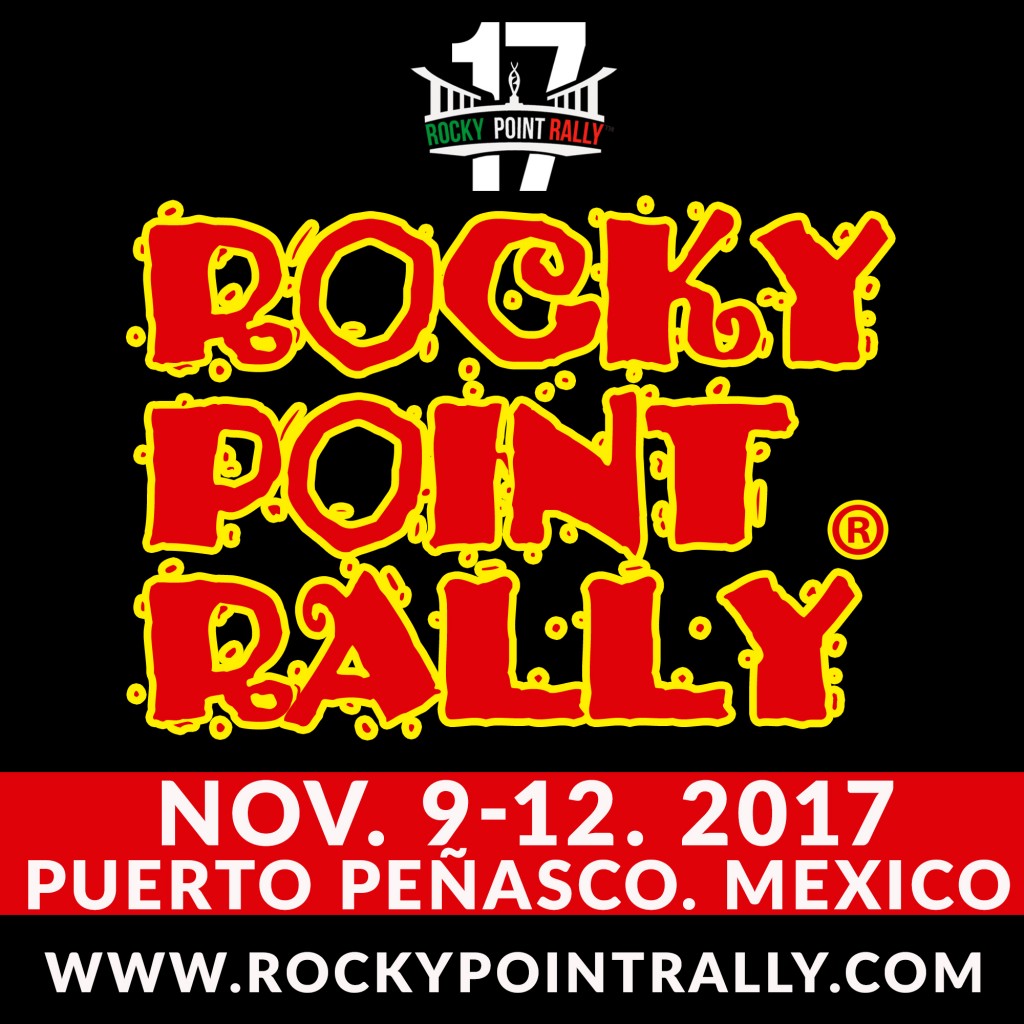 17TH ANNUAL ROCKY POINT RALLY – NOV 9 – 12, 2017!

Rocky Point Rally Registration 2017: EARLY BIRD REGISTRATION ONLINE $20 US This registration fee is a donation to a number of charity organizations that benefit from the event. Registration packet includes official wristband to identify Rally-goers (also for free boarding of Pirate Boat), Official Rally Pin, Official Rocky Point Rally patch, official R0cky Point Rally items from sponsors (koozies, bandanas, etc.), Rocky Point Rally Calendar and map, plus the "Rocky Point Rally Passport" which highlights all our local sponsors around town!  REGISTRATION ON EVENT DATE $25 US – Be sure to register online for the Early Bird donation rate!
In 2017, you will also be able to sign up for the In-town Charity Poker Run $10 US – includes individual pin  (Thursday & Friday)!
NOTE: Rally t-shirts are sold separately from "Registration Packet" T-shirts will be available at registration area during Rally and at Playa Bonita Resort

As in past years, the REGISTRATION AREA for the Rocky Point Rally will be situated Thursday and Friday at Barclin's gas station just North of town, on the highway between Sonoyta and Puerto Peñasco.
What may be new to some is the BRIDGE when heading down the highway – and Barclin's will be on your left shortly after crossing that bridge (tents and signs will be up)  We realize some folk ride into town first and then choose to ride back out for their registration material (which would put entrance on your right).  Plus, you can gas up right there!
The local Rocky Point Riders group also sets up quite a fiesta in the area, adding to the overall flavor of making it to Rocky Point.
Registration area will include:
* WILL CALL spot for everyone who has registered online (thank you!)
* Registration tables – don't forget to pick up your registration which includes OFFICIAL PATCH, PIN, Rally merch, program, map and Rally Passport details
* CHARITY POKER RUN – pick up your game sheet and head out to the 1st stop once you hit town!  $10 US
* OFFICIAL RALLY T-SHIRT SALES
* Donation drop off:  toys (yep, we're starting our toy collection for the 4th Annual Kings Day Ride coming up Jan. 6, 2018;  other donations welcome include dog food for one of the local privately run dog shelters, items for Casa Hogar home for the elderly (adult diapers, cleaning supplies)