Local bike clubs ready for 2nd Kings Day Run!
By RockyPoint360.com
Organizers of the annual fall Rocky Point Rally have teamed up with local motorcycle clubs in Puerto Peñasco for the 2nd "Three Kings Day" Toy Run to take place Jan 9th, 2016. With the Rocky Point Riders, Los Hijos del Pueblo, Sharks Bikers, Iron Sharks MC, Plasticos MC, and even the newly formed American Legion Riders group of MX Post 15 on board, organizers hope to top the 700 gifts collected by the Run last year. All are welcome to donate toys beforehand, or join up with the group on Saturday, Jan. 9th at the meeting spot on the malecón 10 a.m. – 12 p.m. before the "ride" to the distribution spot in Colonia Nueva Esperanza. Earlier in the week, local clubs and rally organizers will be distributing tickets to children from the surrounding neighborhood who will receive gifts from the Toy Run.
To make a weekend out of it, frequent Rally performer Matt Farris of Lake Havasu City, AZ will be topping off things with shows scheduled Friday, Jan. 8th, at Tekila Bar (8 p.m. – 11 p.m.) and a sunset show on Saturday, the 9th (5 p.m. – 8 p.m.), at Beach Bum. Taking time from promoting his new single "Me or the Whiskey", Farris will be returning to participate for a second time in the Toy Run after bringing down various toys in 2015 donated by folks in Lake Havasu as well as by the Avondale Fire Department. As the December holidays neared, Farris remarked he believed they've collected even more toys than last year!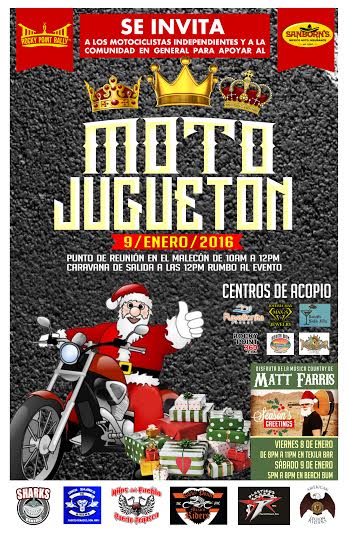 What is Kings Day? Traditionally, Kings Day (Jan. 6th) is celebrated across Mexico as part of the Christmas season, and particularly with gift giving for children. Kings Day is one of the most anticipated days for Mexican children as in various parts of the country the figure of Santa Claus is not as prevalent (particularly in southern Mexico), so the Kings fulfill the role of delivering surprises and toys. 
Collection spots around town now through Jan. 6th:
* Playa Bonita Hotel
* Max's Jewelry  [Joyería Max]
* Tekila Bar
* Beach Bum
* SouthSide Jillz
* RockyPoint360