Logo Contest open through Feb. 28th
The 15th Anniversary Rocky Point Rally™ Logo Contest has had a great response from graphic designers and artists.  The contest is still open through midnight on Feb. 28th and who knows, the winning Logo could still be out there!  $500 US for the winner selected by a team of judges.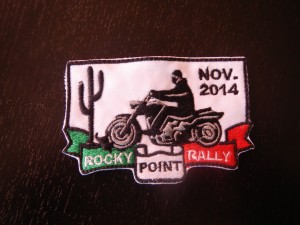 What are we looking for?
We're looking for a design that will translate well on a variety of things we use in promoting the Rally (posters, banners, postcards, website, social networks, etc.) as well as on items at the Rally itself – which could include pins, t-shirts, bandanas, koozies, etc.  Participants can enter 2 different designs, so there's double the chance of winning!  For more information, and to send in your designs by midnight on Feb. 28th contact us at:   rockypointrally.com@gmail.com
Contest Rules
15th Rocky Point Rally™ 15th Anniversary Logo Contest
Deadline for entries:    Feb. 28, 2015    Send entries to:  rockypointrally.com@gmail.com
Official Rules
Eligibility
The Contest is open only to individuals. The Contest is not open to companies, educational institutions, organizations, etc. or to groups associated with such institutions.
Entrants must be 18+ years old.
How to Enter
There is no fee to enter the Contest.
Initial entries must be submitted by email to rockypointrally.com@gmail.com. The entries must be submitted as a 300 dpi, 6" x 6".
The email must include the name, age, postal address, phone number and email address of the Entrant.
No more than 2 Entries may be submitted by any one Entrant.
The deadline for Entries is 11:59 pm (AZ time) on February 28, 2015
We will attempt to acknowledge all entries within 24 hours of receipt.
Submission Guidelines
The purpose of this contest is to design a logo for the 15th Anniversary Rocky Point Rally™ that may be used online, in print, and on Rally items including pins, official t-shirt design, bandanas, etc.   Flexibility is a key requirement, including the need to resize easily and to look good in black and white as well as color. The final version of the logo will need to be suitable for high quality printing.
The logo must contain the words "Rocky Point Rally®" and either "15th Anniversary" or "2015".
Due to the requirements for high quality printing and re-sizing Entries must be submitted minimum 300 dpi. We recommend not using halftones and gradients. Color in this version must be CMYK, not RGB.
The limit on attachment sizes for our email is 10Mb.
Prizes
$500 USD prize to be awarded to the winner of the selected logo!
The right to use the basic logo and identify him/herself as the logo designer.
Selection of Winner
The winning design will be selected by a judging panel appointed for the purpose and by the organizers of the Rocky Point Rally™. Their decision will be final.
Organizers of the Rocky Point Rally™ reserve the right not to select a winner if, in its sole discretion, no suitable entries are received.
The winner will be required to sign a contract assigning all ownership of the logo to Rocky Point Rally™.
Accepting the prize constitutes permission for Rocky Point Rally™ to make public and otherwise use winner's name, and country of residence for publicity purposes.
Winner will be selected by March 8, 2015.
Intellectual Property
All submitted work must be original and not based on any pre-existing design.
All Entries will become the sole property of Rocky Point Rally™ and may be displayed publicly on Rocky Point Rally™ web and social networking sites.
Acceptance
Participation constitutes the Entrant's full and unconditional agreement to and acceptance of these Official Rules. By participating in the Contest, the Entrant is representing and warranting that he/she has read and understood, and agrees to be bound by, these rules. Including the guides and rules referred to herein, these Official Rules constitute the entire agreement between the Entrant and Rocky Point Rally™ in relation to the Contest.
The winner must provide the logo in appropriate original formats for edition and resizing, in the best resolution and quality possible.