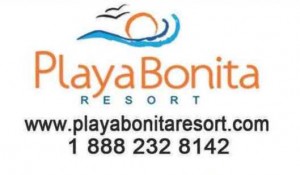 Playa Bonita is known as the spot where the Rally began back in 2001. For our 15th Anniversary, Playa Bonita is still host to Friday night's traditional beach party where Poker Run prizes are also given out!  Plus this year, join us at Playa Bonita on Wednesday night, Nov. 11th, for an early bird welcome with the music of Matt Farris!  The Resort itself includes two hotels (Laos Mar and Playa Bonita Hotel, as well as an RV Park).  Wednesday night welcome @Playa Bonita  5 – 8 p.m.  Friday night Beach Fiesta @ Playa Bonita  5 – 8 p.m.
On Sandy Beach, Las Palomas is the largest condo complex in town and offers restaurants on-site as well as relaxing pools as well as The Links golf course.  Las Palomas is situated right near Wednesday,  Thursday, and Friday night events.
Located along the fantastic sands of Sandy Beach, Sonoran Sea Resort is located right near Bandito's where Thursday night's Kick-off party will take place (7 – 10 p.m.)  RPR Mexico represents all rentals for the Sonoran Sea and are always strong supporters of events across Rocky Point.
    Welcome back MexPro as a 2015 sponsor!   Glad to have you back!  Offering bike insurance for your trip over the border.  With Mexpro you have the ability to purchase the motorcycle insurance for Mexico that best suits your needs. We offer policies on a daily basis or in six month and annual terms –>  Mexican Motorcycle Insurance
For years, Barclin's (gas station / Circle K convenience store) has been the proud sponsor of our official Rocky Point Rally™ pin, and also serves as the main registration spot just North of town on both Thursday and Friday during the Rally.  Friday's Desert Ride to the Visitors Center of the Pinacate Biosphere Reserve will also depart from Barclin's parking lot.